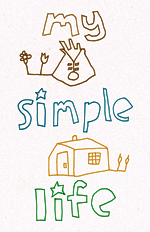 My Simple Life
($5.00)
Now Available!
First published in 2005 under the title Radical Simplicity, this new ebook is the edited version, which strips away all the unecessary images and text and gets to the root of the book. When Running Press asked me to write freely and not worry about length i went a little nuts and got too wordy. Then the book went to a designer who put way too many images and do dads everywhere so that in the end Radical Simplicity was anything but! This ebook is way easier to digest and is a fun read with a few pertinent images. I hope you enjoy it.
Available as an e-book in PDF format. This is now delivered automatically upon payment.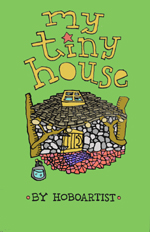 My Tiny House
($5.00)
After 15 years of living in tiny shelters, itinerant artist Dan Price settled into an 80 square foot underground room with one skylight and one small door. With a few easy clicks you can read his first ever e-book about why he choose to live in such an unusual manner and how he built the small room he calls home. Filled with full color illustrations, this tiny book just might fill your own imagination with enough ideas to start your own tiny house.
Available as an e-book in PDF format. This is now delivered automatically upon payment.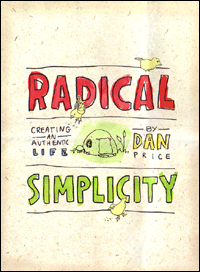 Radical Simplicity
(

not available here

)
Finally! After spending 15 years trying to edit and simplify his life to the nth degree, d. price sat down long enough to write a big book all about the whole amazing experience. In those years Price went from living in a 6-room Antebellum Kentucky mansion to a cabin, a flophouse room, a 16ft tipi, a burlap hut, mountain tents, 6x10 shed and now in an 8ft circular underground room. The book is 170 pages, two-color and filled with stories, photos and sketches and many practical tips for living a simpler life. Published by Running Press.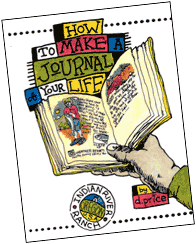 How to Make a Journal of Your Life
(

not available here

)
Here's Dan's best-selling all-time favorite book about how you keep your own unique journal. The Hobo gives specific and FUN examples of how to document your life through the art forms of writing, drawings, taking photos and collecting memorobilia. And there's even a (now) world famous cookie recipe included dreamed up by his daughter Shilo Rose. Get journaling your life today.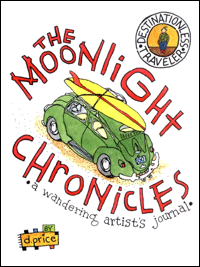 The Moonlight Chronicles - A Wandering Artist's Journal
($6.00)
Price's only full-color 150-page M.C. book to date. Stories include a walk thru Hell's Canyon (funny). Life with teens (heart-breaking). Summer vacation (go-carts and campouts). A trip to L.A. and Spokane (fun), and random drawings from New York and beyond. Get yours while they last. Published by TenSpeed Press in 2000.
The Photographs of d. price
($2.00)
From 1980 to 1990 our hobo artist was not a hobo but a professional news photographer. He shot pictures in Oregon, Colorado, Utah, Kansas, Oklahoma, Kentucky and beyond. This book, although a rough printing, displays all his best photographs made with Leicas, Nikons and a toy camera called Diana. Enjoy seeing this part of Dan's artistic journey, thru a "little glass eye". 136 pages.